Update: New version 2.0.12 is now approved and soon available in App Store. Please make sure to update.
Unfortunately we have two issues in our latest iOS app, version 2.0.11.
The first issue is in the Blocked and Allowed lists, when reporting or releasing a message. The top message will always be the message to be reported or released regardless of which message you tap – if you do this from the list. If you do this from the message view it works as expected.
Do not upgrade to 2.0.11 – wait for 2.0.12 instead
We have submitted a new version to App Store, but nowadays it takes about a week before Apple reviews apps so the update will take some time to reach you.
Workaround if already updated to 2.0.11
Before the new version that fixes this issue (2.0.12) is available you need to do the following when reporting or releasing messages:
Do not report/release from the lists directly unless you want to report/release the first message.
Instead – tap the message and report/release from the view message screen: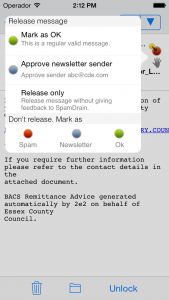 Issue with 12 hour setting
The second issue is that message lists won't show any messages if you have your clock set to 12 hours instead of 24 hours. The workaround for this is to go to your Settings app, General->Date & Time and switch 24 hour on. Then lists will show messages again. Version 2.0.12 will include a fix for this as well.
We are very sorry for the inconvenience and hope the new version will be available a soon as possible.