Today we have the pleasure to announce that we've released a public beta of the new webapp we've been working on for the past months. So far you will be able to access your filtered messages – search, report, release and view them. The next weeks we'll make sure to unlock rest of the functionality such as settings, account info and our brand new whitelist blacklist management just as we have in the mobile apps.
First time you access the new interface you'll be presented a tutorial that you don't want to miss so make sure you watch the entire show.
Access old UI
And don't worry if you feel lost. For some time we will provide a link to easily get back to the old webapp, but it will phased out later this year.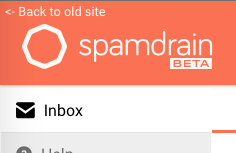 About Spamdrain
SpamDrain is a anti-spam cloud service that uses artificial intelligence to filter out spam, newsletters, phishing and virus emails. We bring peace of mind to your inbox.